Boost your business' online visibility and attract potential customers.
put your business on the map
If you're a business owner, you're likely familiar with Google My Business Profile—an invaluable tool for establishing a robust digital marketing strategy and effectively reaching your target audience. This free platform enables businesses to create a comprehensive listing on Google, showcasing vital information such as your address, phone number, website, and operating hours.

As part of our website maintenance packages, we offer seamless management of your Google My Business Profile. Our services include creating and optimising your listing, ensuring it reflects your business accurately. We also take care of adding your services and promptly responding to reviews, enabling you to maintain a positive and professional reputation online. With our assistance, you can maximise the benefits of your Google My Business Profile and stay ahead of the competition.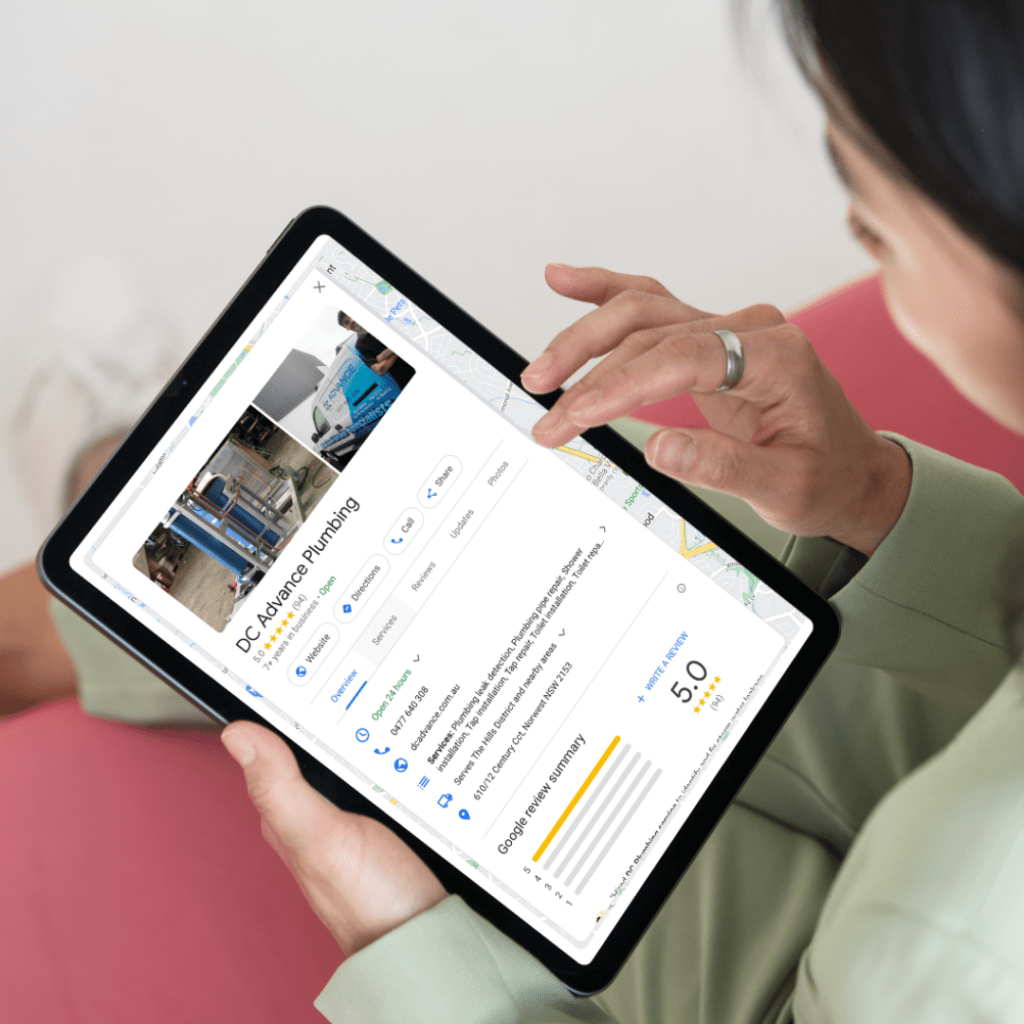 Google Maps listing
Having an active account lets you appear on Google Maps and on Google Local listings. This means that when someone nearby searches for the types of products and services you provide, it will show them your business details, location, opening hours and customer reviews.
Optimised for search
Your Google Business Profile listing takes up a considerable amount of space in the search results area. This means there's a much higher chance of being seen by local clients. It is important to optimise your listing so it appears first for potential customers.
Reviews Management
Customer reviews are extremely important to building reputation and trust in your business. You can encourage customers to leave reviews and these appear prominently on your listing. We take care to respond to reviews to promote your business' professional image.
Ready to BOOST YOUR ONLINE PRESENCE?
TAILORED STRATEGIES FOR YOUR BUSINESS
As any business owner knows, digital marketing is essential for reaching potential customers. But keeping up with the latest trends and technologies can be a full-time job in itself! That's where Mindsite Web Services comes in. We take care of all your digital marketing needs, from updating your website content, to hosting your email, to managing your social media accounts. And because we stay up to date on the latest trends, you can be confident that your online presence is in good hands.

As an experienced digital marketing company in Sydney, we know what works and what doesn't. We know that we need to adapt and evolve our strategies as technology change. Digital marketing is never a one size fits all project. It takes careful planning and solutions that are tailored to your business to deliver results. We offer forward-thinking solutions for your online growth. We believe communication with you at all times is essential to understanding your needs and creating a strategy that works for you.
How Google Business Profile helpS YOUR business
Potential customers are searching online for services or products like yours right now. If your business is pinned on Google Maps, then your website has a much better chance of being seen.

Mindsite offers comprehensive packages that include optimising your listing, regularly posting about your services, as well as review gathering and reputation management. We can help you get seen online and keep your reputation healthy.