Boost your online visibility with our NDIS industry expertise.
generate more NDIS Participant referrals
With so much more competition in the disability care industry today, NDIS providers must become more focused on marketing themselves and their services to participants and their families and carers. NDIS providers need a digital marketing agency that can handle all of their online marketing needs – from website design and maintenance, search engine optimisation (SEO) and content creation to social media management, 24/7 support and more. That's where we come in.

Mindsite Web Services offer the complete solution to manage your NDIS website and digital marketing needs. We focus on making your website as user-friendly and engaging for participants and their families as possible. Offering relevant information and using effective design to encourage them to fill in a form or pick up the phone. With our extensive experience in this field, we are confident we can help you gain more referrals.
NDIS Website Design
Your website is a participant's first impression of you. We create websites that explain your services and encourage new leads. Your website will accommodate the needs of visually impaired and those with other disabilities.
NDIS Staff Portal
We can create an easy to use NDIS staff portal for resources, staff training and internal communications. Your staff can access it anywhere and anytime, efficiently streamlining your processes and communication.
WEB MAINTENANCE
Keeping operating systems and applications up to date is one of the best ways to protect yourself from being hacked. Regular website updates also lead to better site performance, including page loading time and functionality.
ready to take the first step towards
a professional NDIS website?
showcases your NDIS business and get results
As a business in the disability and aged care sector, you have a lot on your plate. Managing your website and online marketing can be a daunting task, especially if you don't have the time or staff to devote to it. That's where we come in. Our clients have experienced impressive results since partnering with us for their digital marketing needs – increased website traffic, improved search rankings, and more qualified leads, which translates to an influx of new clients. Don't struggle to keep up with your digital marketing – let us help you succeed.
What is the benefit of NDIS website management?
As an NDIS provider, your top priority is helping people with disabilities improve their lives. But with all the demands of running a business, it can be tough to also stay on top of your online marketing. That's where we come in. We offer a full range of online marketing services, from website design to website care packages, so you can focus on what you do best. Let us handle all of your online marketing needs, so you can make the greatest impact. We are here to support all NDIS providers with their online requirements.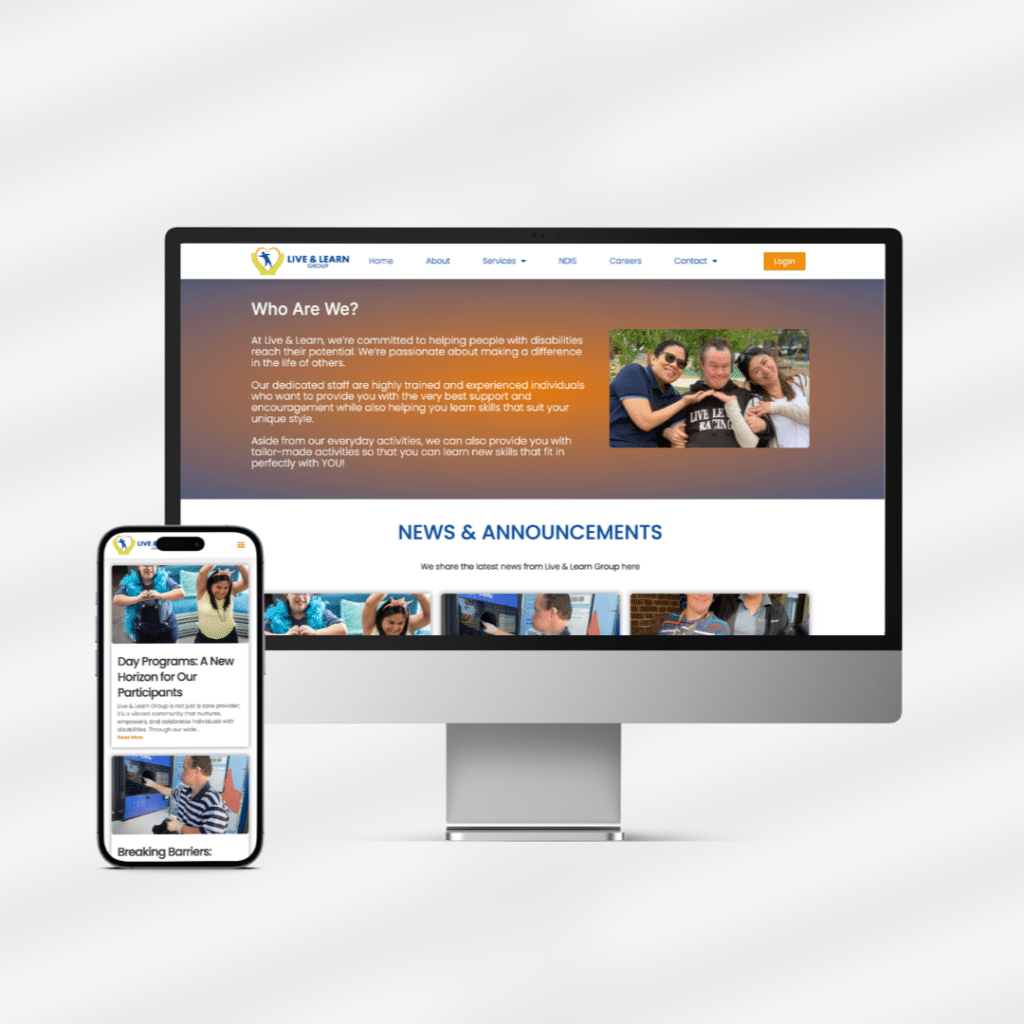 Enhanced Participant Experience
A well-thought-out NDIS web site design ensures that every visitor, especially participants and their carers, have a seamless experience. We focus on user-friendly interfaces and intuitive navigation, ensuring that vital information is always just a click away.
Effective Engagement Tactics
At the heart of every successful digital strategy is engagement. By weaving in strategically placed call-to-action prompts, like forms or direct contact options, we boost the chances of potential clients reaching out. This approach directly ties into generating more referrals.
Comprehensive Digital Solutions
Mindsite Web Services recognises the diverse needs of NDIS providers. Hence, we offer holistic solutions encompassing website design, SEO, content creation, and round-the-clock support. Our goal is to handle the technicalities, letting you focus on delivering impeccable care.
Standing Out in the Competition
The disability care sector has witnessed significant growth, making it essential for NDIS providers to carve a unique space for themselves. An outstanding website design not only showcases your services but also reflects your commitment to quality care.
NDIS
Discover how Targeted NDIS Provider Email Marketing can amplify engagement. Dive into best practices and strategies to connect with stakeholders, foster trust, and deliver value. Enhance your NDIS initiatives with effective communication today.
Read More »
NDIS
In the world of inclusive NDIS website design, Mindsite Web Services stands as a beacon of trust, engagement, and inclusivity. Through tailored solutions, we not only strengthen the online presence of NDIS providers but also craft digital platforms that are truly transformative.
Read More »
NDIS
Our exploration of NDIS marketing strategies underlines the synergy of innovation and genuine connection. These strategies are the compass leading us towards enhanced engagement and service to the disability community.
Read More »
frequently Asked Questions
How can NDIS website management boost leads?
Your NDIS website needs to confirm your good reputation and generate business. That's why we use features like participant referral forms, call-to-action buttons, accessibility features, service pages and strategic contact opportunities across the site to encourage more leads.
How long will it take to create my NDIS website?
We can usually create a design for you to review within 2 weeks. This is dependent on communication with you, how quickly we receive your content such as text and images etc. and the level of functionality and features you require on the website. We can work to your deadlines and come up with a plan that suits your marketing needs.
Can you design a logo and create NDIS business cards?
Yes! We offer high-quality graphic design services for logos, business cards and flyers and other marketing materials. We'll work with you to create a design that represents your brand and appeals to your audience, then print them on durable cardstock or glossy paper for an impressive finished product.
Do you offer Google Business Profile management for my NDIS business?
Yes, Google Business Profile is a powerful tool. We can create, manage and post to your listing as much as you need as part of our website maintenance packages. We also add your services and respond to reviews in order to maintain your positive and professional reputation.
Can you provide SEO services for NDIS businesses?
Yes, Mindsite Web Services offers comprehensive on-page SEO services that will help your NDIS website rank higher in search engines such as Google, so you can attract more qualified visitors and increase your conversion rate.
How do I market my NDIS business?
At Mindsites, we believe the key is a blend of a top-notch website, SEO-rich content tailored for the Australian audience, strategic social media campaigns, and a strong presence in local directories. Combined, these ensure you're both seen and trusted by potential NDIS clients.
How do I market to NDIS participants?
With Mindsites, you'll harness the power of a tailored website, engaging Australian-centric content, targeted social media strategies, and local community outreach. This comprehensive approach ensures you connect effectively and ethically with NDIS participants.